As old school as it sounds, business cards still hold an important purpose in marketing and attracting clients.
The personal touch helps you make a quick and lasting first impression. And on top of that, it makes it super seamless to make your business referable, apart from the fact that it is an easy way to give out contact details when you meet someone physically.
If there's one thing that still remains an effective networking tool outside of the digital world, then it's got to be a business card. It is extremely wise to get one made or design it yourself, depending upon your preference.
To make things easier, here are the best tools and platforms that'll help you either design one yourself or hire an expert for the same.
Canva

I am almost certain that you've heard the name of Canva before because it's the top online design tool on the Internet. You can literally design anything with it, ranging from logos, banners, ads, and whatnot. You name it, and Canva has it.
Talking about their business card section, there are a plethora of templates that you can use to give yourself a head-start in the designing process. You can choose to change all of the elements or use as it is after slapping your business details on it, whatever works best for you.
The editing interface is super user-friendly, and you can be sure you'll be finished with a great final result even if you have no prior experience in designing.
The best thing is, despite having all these great features, Canva is completely free to use.
Easil

Get access to customizable business card templates and create visually stunning designs with Easil. You can use their drag and drop editor and tweak fonts, colors, text, and various elements. Goes without saying, it lets you also upload your logo and other branding elements into it.
The library of templates is full of variety, and you can choose both vertical and horizontal designs to start with. The majority of the features are completely free to use, but you can opt for their paid plans starting at $7.50/month to unlock brand kit, more templates, custom fonts, etc.
Placeit

Famously known for mockups, but Placeit is pretty handy when it comes to business cards as well. They have some great-looking templates for every industry that you can use as a base to create your business card.
You can enter text, adjust colors, upload logo, and utilize numerous elements to spice up the design. Placeit gives you the option to pay for either one single design or an entire monthly membership.
Obviously, opting for the monthly membership gives you access to all of their design templates on different categories, not just business cards. Whatever your requirement is, you shall easily find your perfect match for it with this tool.
Adobe Spark

Adobe Spark lets you design professional business cards within minutes, without any design skills. They have exceptional templates that you can use for free and take it from there by changing colors, adding typography, fonts, elements, and whatnot.
This tool has a bunch of images that you can use, and there are also pre-made themes, just in case you want suitable color schemes and everything as a package.
It's a piece of cake to design one from scratch as well, knowing that you have a huge library of elements at your disposal. You can download, print, and share your business cards for absolutely free.
Crello

You can add over 12,000 objects, frames, icons, and other elements while designing your professional business card with Crello. Just start by choosing one of the many templates, customize, resize them, and finish by downloading it in a jiffy. There's also an option to print double-sided cards.
They have over 4 million users, and I believe most of it is because of their ease of use. You can drag and drop elements, because well, it can't get any easier than that.
Crello is definitely a great option to consider, so be sure to check it out.
Fiverr

One of the largest freelance marketplaces, Fiverr lets you hire people for any services you can think of, and business card designing is one large part of it. Starting from just $5, you can expect to find some of the most talented freelancers on the Internet, while also encountering some that don't live up to the expectations.
Thankfully, you can view the reviews, ratings, orders in the queue, and all-important details before placing an order. And even after that, if you're not satisfied, you can ask for revision or a refund.
In most cases, the freelancers really do a great job, so it's definitely worth looking at this site to get your professional business card designed.
Shopify
This might seem quite unexpected, but Shopify has a handy tool that allows you to design your own business cards. Just enter details like name, email, website, and address to have your own professional business card.  You can also upload your own logo for branding.
Once all that is done, Shopify will straightaway email you the finished design, so you can download and print it. There is no charge for it, and you can do this all for free.
Visme

Used by brands like IBM and Intuit, Visme has amazing customizable business cards that you can use for free and make it your own. It has an intuitive editor that'll only make things simpler for you. Just fill in your company information, choose colors, fonts, icons, photos, and elements to be finished with a professional design.
You can download your final product in the form of an image or PDF with proper bleed marks ready for printing. You can also publish it on the web or embed it into your website.
Namecheap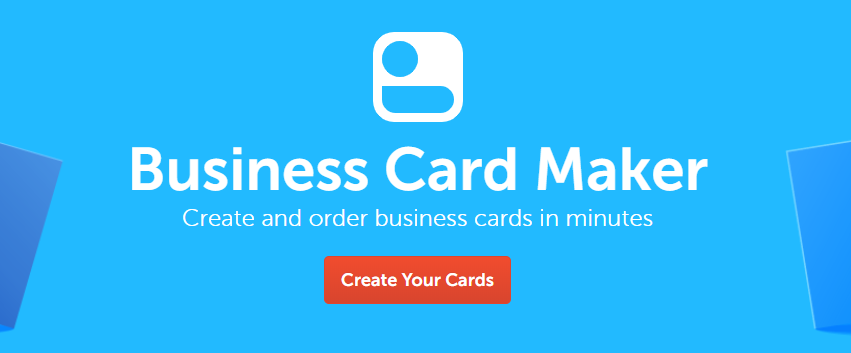 With templates on different industries, Namecheap gives you that flexible and non-confusing space to choose the most suitable design for your business card. It's fast and easy to use, and the most wonderful thing is, you'll get free shipping of the designed business card to over 50 countries.
You can upload your own logo to it or even better if you don't have one, you can create it for free using their logo maker.
Obviously, their business card service isn't free because you get the card shipped to you, but their features totally make it worth every penny. Pricing plans start from just $18.88/100 pack.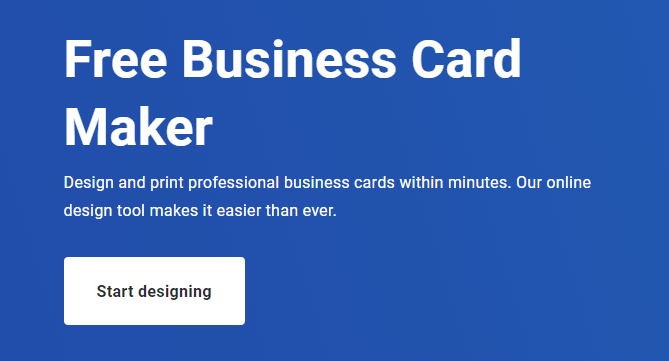 Bannersnack has great-looking fonts, backgrounds, clipart, icons, and stock photos to help you design professional business cards. You can utilize their library of templates to get started into the super-intuitive drag and drop editor. It has some of the most helpful features like "snap to grid" and "align center" to save you a ton of time.
All of the templates are entirely customizable, but you can also choose to start from scratch if you wish to. Once you're done with the design, you can download it as a printable PDF. Overall, it's simple and free to get started.
Conclusion
I hope the above platforms help you get your own business card designed without much hassle.