Geekflare is supported by our audience. We may earn affiliate commissions from buying links on this site.
If your PC speakers stop working suddenly or the audio port malfunctions, you can wirelessly use your Android phone's speaker for your PC for free.
A few weeks ago, a similar thing happened to me: my PC's audio port stopped working, and I could not fix it even after following multiple solutions. So I decided to order a USB audio adaptor instead. However, I had to find a way to listen to my PC's audio while the audio adaptor arrives. And that's when I stumbled upon the idea of using my Android phone as a speaker for my PC.
With the help of an Android app, you can use your phone as a speaker for your PC even if the phone and PC are in different rooms. Today, I'll show you how to set up your PC and phone to port the audio in real-time.
Use an Android phone as a PC speaker.
There are many apps on the Google Play Store that let you do this. At first, I tried SoundWire, and honestly, it worked fine. It has a very flexible free version and works smoothly in most cases. However, I occasionally faced latency issues, so I gave AudioRelay a try, and it did wonders.
I didn't see any noticeable latency at 128 Kb/s compressions, and it is very smooth to set up and run. Even though some of its customizations are only available in the premium version, the free version works fine for unlimited audio streaming at decent quality.
For demonstration, I will be using the AudioRelay app. You need to set up the AudioRelay client on your PC and the app on your Android phone; I'll show how to do both:
Get AudioRelay PC client.
You need to separately download the AudioRelay client on your PC that you can get from the AudioRelay website. When you first launch the client, Windows may ask to allow it in the Firewall; make sure you click Allow here. This will ensure Firewall doesn't block the client's access.
Keeping the client open is all you need to do to set it up. Although there are a few customizations, you can make your experience better, like launching the app with system startup, minimizing the app to the system tray, etc.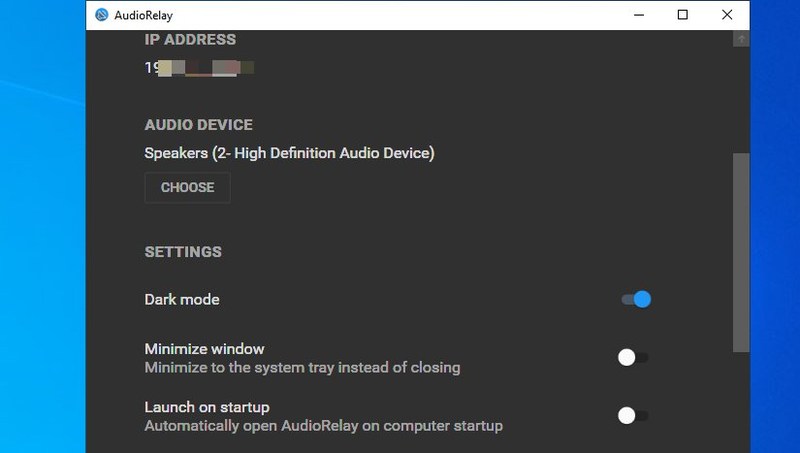 Using AudioRelay Android app
First, make sure your phone is connected to the same internet connection that your PC is connected to. The app only works while both the devices are on the same network; this is also why it can make an automatic connection.
Afterward, launch the AudioRelay app and tap the Search button to look for your PC on the network. Once found, tap on your PC name, and it will start streaming audio from your PC on your phone.
You can see the latency in real-time on the same page. There is also an Audio Output button at the bottom that you can tap to select standard output or OpenSL ES. By default, OpenSL ES is selected that offers the least latency. However, if the audio volume is low or the sound quality is bad, you can switch to the AudioTrack option to fix it possibly.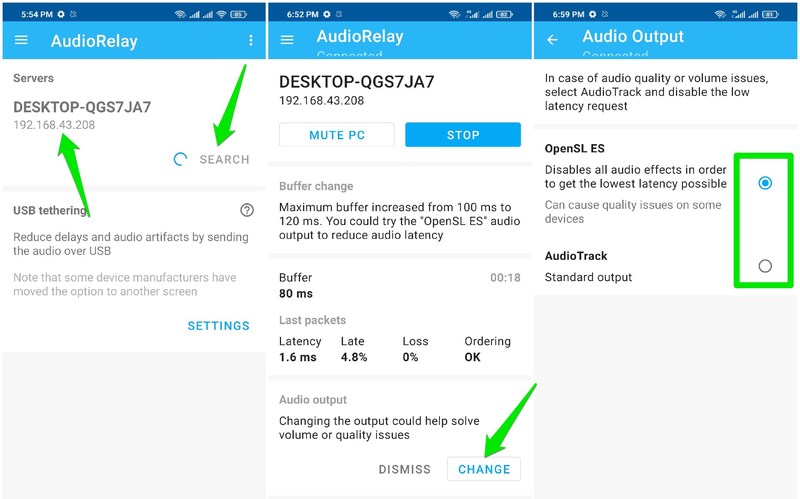 AudioRelay will keep working in the background, and you can even close the app if you want. If you want to stop the audio streaming, go back to the app and tap the Stop button. You can also control the phone volume from the PC client once the connection has been made.
Customize app settings
The above information is enough to set up both the PC and Android app to starting streaming audio. However, if you are facing problems or are interested in optimizing audio according to your need, there are some tweaks.
Note: Some of the options are only available in the premium version, but you can still make basic changes in the free version.
Tap on the hamburger menu at the top-left corner and select Settings from it. Although there are many UI-related options here, like changing theme, language, etc., I want to talk about the audio options. Audio Quality and Audio Buffer are two options that directly affect the audio; here's what each option offers.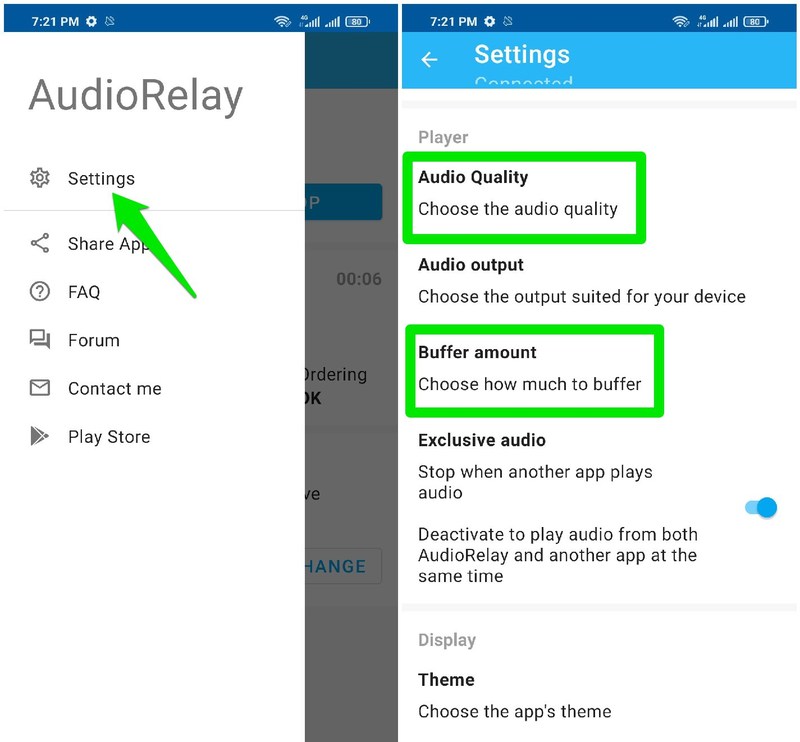 Audio Quality
This basically lets you select the compression strength of the audio. You can select compression levels from 10 Kb/s to up to 450 Kb/s. The more compressed the audio setting you select, the more bad quality the audio becomes.
However, if you go for better quality, like 256 Kb/s or 450 Kb/s, it will also consume more data. If your internet connection isn't fast enough to support such quality, then you will see heavy latency and audio hiccups.
The default, 128 Kb/s, should be fine for most people as it offers good quality sound while working fine on most internet connections. If you face latency or audio keeps stopping, then 96-64 Kb/s is also acceptable.
There is also a premium option not to compress the audio at all. If you have a high-speed internet connection, then you can enjoy audio at the best quality with this option.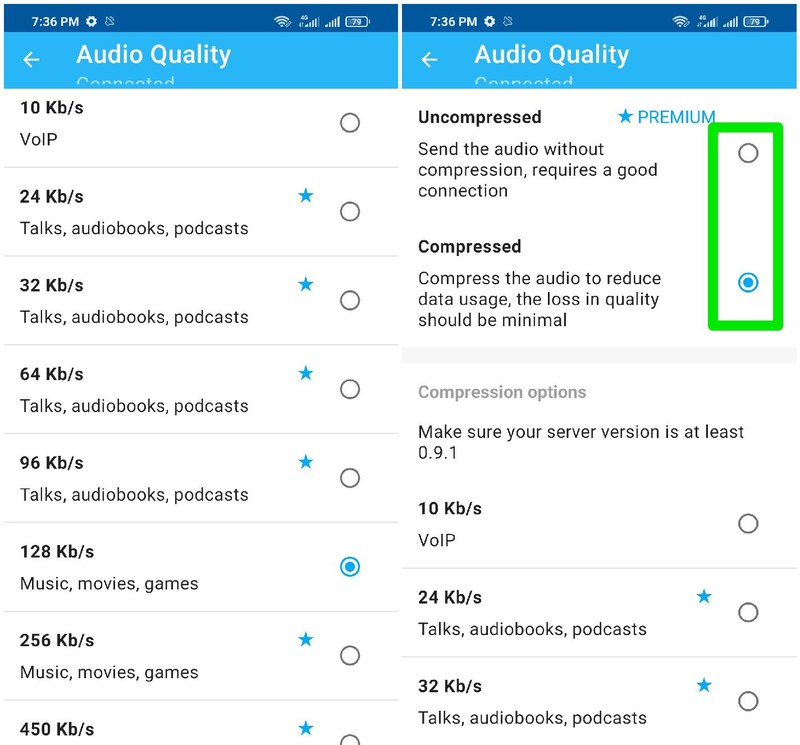 Audio Buffer
This option lets you decide how much the app should buffer the audio before playing it on your phone. If the buffer time is high, it will give the app enough time to process the audio even on a slower connection and smoothly play it.
However, this will increase latency, and it will feel like the audio is playing later than the actual action, which is bad for watching videos or playing games.
You can lower the buffer to minimize latency, but you'll need a fast connection to play the audio smoothly. Otherwise, the audio will keep stopping as it will be unable to process at a slower connection.
Depending on your need, you can select low, medium, or high buffer. You can also select custom buffer time between 1-100 if you have the app's premium version.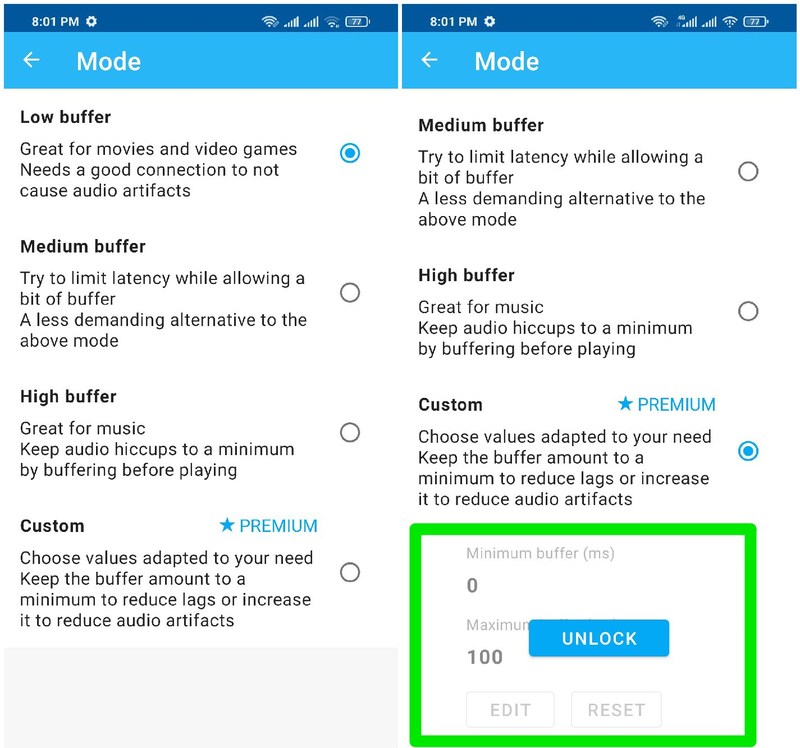 Wrapping up
If you need to use your Android phone as a PC speaker often, I will recommend you to get the premium version of the AudioRelay app. Not only will it let you optimize audio quality, but you can also play audio on multiple Android phones simultaneously. If you don't want to buy premium but still want the customization options, then the SoundWire app I mentioned before is a good alternative.